It's a tricky time for the health insurance industry. Last year, customer satisfaction hit a 10-year low. Further, scrappy startup companies-smartly leveraging disruptive online technologies, the ubiquity of the Internet, and mobile-first consumers-are offering innovative solutions to consumers, and claiming mind- and market share from incumbent insurers.
Take newcomer Oscar, founded in 2012. The health insurer's website appeals to younger prospects. Its clever mobile app "lets you search symptoms in plain English, find doctors on a Google Maps-like layout, and compare prices on services like MRIs and physical therapy," Forbes wrote last year. And when customers hit their fitness goals, they get cash.
Other startups like Bright Health—which will debut next year, led by a former UnitedHealthcare CEO—are scoring consumer attention, too.
So why are customer satisfaction levels so low … and why are disruptive companies stealing the spotlight from incumbents? Consumers' expectations are evolving rapidly, thanks mostly to innovations in online and mobile technologies.
"(I)n a time of rising consumer expectations, the user experience of healthcare is falling behind," analysts for Oliver Wyman wrote in a recent e-book. "Particularly when compared to Uber for personal transport, Amazon for shopping, or Open Table for picking a restaurant and making a reservation. In healthcare, nearly everything is inconvenient, slow, confusing, and opaque."
Adds Ernst & Young: "At a time of focus on differential value, (insurers') core offerings are poorly differentiated and largely interchangeable. And despite the huge shift to data and analytics as value drivers and sources of growth, insurers make relatively little use of the data they already generate."
Customer challenges will remain on the horizon, too. According to 2015 Gallup data, the next generation of insurance buyers—Millennials—are the least likely generation to feel engaged with insurers. While Millennials are more than twice as likely as other generations to buy insurance online, they're often dissatisfied with the online experiences insurers provide.
In this increasingly competitive and cynical environment, established health insurance companies can't lean on old thinking to reclaim lost ground. Incumbents must adapt and serve customers in three key ways:
They must adopt lower cost, higher satisfaction approaches to customer service and support
They must find ways to efficiently manage the complexity of offering programmes that vary by state
They must also find new customers, and sell more to them, to achieve business growth
Serving Diverse Customers, Affordably
Controlling the cost of supporting a diverse customer base has always been a challenge. Consumers' expectations are constantly rising, but as online and mobile technologies have streamlined the customer experience in countless verticals, their expectations have practically become stratospheric. They're not the only ones who demand to be impressed. Constituents such as providers, agents and brokers also expect intuitive online and mobile solutions. And consumers and partners alike demand a comfortable and personable, personalised experience. After all, that's what the upstart competition—and countless other websites—now offer.
Insurers are working hard to provide those experiences for their English-speaking customers. But there's another segment that insurers chronically underserve-the over 13 million (and rapidly growing) population of Spanish-speakers in the U.S. Offering Spanish-language shopping information and online self-service is not only exactly what this market wants, it's also surprisingly easy and cost-effective to provide. Insurers that do this can greatly benefit from serving the fastest-growing segment of the newly insured. They can also lower their costs to support these new customers.
Spanish-speaking Hispanics represent the most compelling, and historically underserved, U.S. market for health insurers. This growing population represents a powerful growth opportunity for incumbent insurers.
A few fast facts: Around 75% of U.S. Hispanics speak Spanish at home; a full third of Hispanics say they're not proficient in English. More than 35% of Hispanics prefer to read online and offline content in "all Spanish" or "mostly Spanish."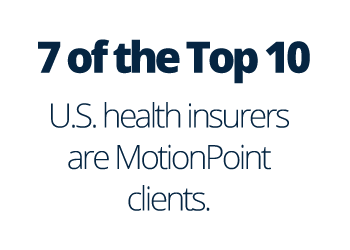 Serving these customers with Spanish-language content is mission critical. Research indicates that presenting insurance products, services and customer support information in Spanish goes a long way to building trust.
And even more so than the U.S. average, Hispanics are mobile-dominant consumers. According to Google, they are mobile "power users," and adopt new digital devices more quickly than the national average. They're also likely to buy more smartphone apps and digital media than average. They use mobile financial services more often, too. (65% vs. the non-Hispanic average of 53%.)
As seven of the Top 10 U.S. health insurers know, serving these consumers in their language of choice, on their devices of choice, is a smart play. And unlike the massive investments in technologies that insurers might incur to keep pace with tech-forward startups, MotionPoint's solution for communicating with Spanish-speaking customers reduces costs. This is particularly so in customer service, as we've recently reported.
MotionPoint's technology also dramatically lowers the cost of managing dozens of state-, company- and agent-specific websites and portals in multiple languages. It does this by storing content independent of the webpages where it appears, and then dynamically replacing the English content on each webpage as it is served to non-English speakers.
It's an incredibly efficient and highly secure approach, ideally suited for the health insurance industry.
State-To-State Compliance, In Language
Insurers must manage very similar, yet different, offerings for the states in which they operate. Some of this content is submitted electronically to online exchanges run by third parties. Managing this flow of content while simultaneously complying with the multitude of state and federal regulations is very challenging. To do so in Spanish as well as English-at least the way it has traditionally been done-elevates the challenge even higher.
But thanks to the way MotionPoint's platform handles the delivery of translated content, the management of dozens of Spanish-language websites, portals, and exchanges is effortless. And since MotionPoint's technology sits outside an insurer's existing website technologies, databases, and content management systems, deployment is remarkably fast.
And this process provides airtight security, too. MotionPoint's platform is HIPAA- and HITECH-compliant. Any personal data an insurer might collect is completely ignored by MotionPoint's system and forwarded securely to the insurer's back-end systems.
New Customers Grow the Business
"Familiarity won't insulate insurers from new competition," warn Deloitte analysts in a recent e-book, and they're right. Historically, established insurance companies have attracted and retained customers with large marketing budgets, high brand recognition, and extensive agent networks. But this doesn't provide the protection to incumbents today as it once did.
Thankfully, proactive companies that respond by serving Spanish speakers can achieve instant and sustained success.
Time and again, we've seen that when insurance companies provide authentic in-language interactive experiences, they win new consumers in new markets. In just three years using MotionPoint's solution to serve online Spanish-speakers, some health insurance companies have seen 360% average increases in website traffic. Using MotionPoint's EasyLink® technology (which seamlessly directs visitors to user experiences in their preferred language), these companies also saw an additional 35% average surge in traffic.
MotionPoint's platform is especially effective, thanks to its speed and flexibility. Translated sites are deployed in around 40 days. MotionPoint's solution perfectly complements the world's top content-management, PIM, and e-commerce platforms. It also accelerates time-to-market by seamlessly translating digital content for mobile apps, exchanges, and more, as insurers work to keep pace with an endless flow of new business opportunities.
Marketers will also delight in knowing that MotionPoint's platform easily scales to deliver a localisation solution for their company's entire enterprise-including digital and offline marketing materials, messaging for social media, in-language pay-per-click adverts, and much more.
Wrapping Up
In recent years, savvy startups and dissatisfied customers have threatened the market share of established health insurers. But incumbents can adapt by smartly serving Spanish-speaking consumers online in authentic ways.
Those that do can win the hearts and minds of entirely new consumers, as well as their families and friends.
MotionPoint helps seven of the Top 10 U.S. health insurance companies provide multi-lingual online service and support to the U.S. Hispanic market. Contact us to learn how we can help your grow your brand—and serve new customers quickly, and cost-effectively.
Last updated on September 29, 2016