Website localization and translation are the keys to growing your business and attracting multilingual customers. Your target audience will appreciate marketing and content in their native language. It is personal and welcomed by engagement with the content and, more importantly, (repeated) purchases of your product.
76% of people surveyed by CSA Research stated their preference for buying products with information in their native language. 55% said they would not consider buying from websites in a different language, and 75% of people explained they are "more likely to buy again from a brand if customer care is in their native language," even when they had a confident grasp of the English language.
Overview of The Translation Lifecycle
In the graph below, the y-Axis displays International Requirements/Dependency, while the x-axis displays International Maturity. The black line through the bar graph is the vendor support curve. 
The entire translation lifecycle requires consistent communication and collaboration with others for successful results. During the early stages of expansion and localization, a less mature company requires higher levels of international dependency, and the need for more support from a concierge-level translation partner, such as MotionPoint, is high. As the translation lifecycle progresses, a company is more likely to be able to handle the maintenance and upkeep required.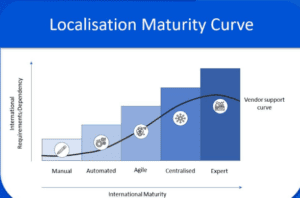 Overview of Total Cost of Ownership (TCO)
Total Cost of Ownership (TCO) is a comprehensive approach to understanding and managing the costs associated with a product or service over its entire life cycle. TCO takes into consideration the initial cost of acquisition, as well as ongoing costs. This can include operating costs for the initial translation, installation, implementation, maintenance, training requirements, licensing, and upgrades.
Translation costs differ among different project scopes, services, and providers. For example, determining the word count for offline content such as documents is easy. But it is much harder for websites. This is because translatable text is often easy to detect on web pages; however, translatable digital content lives in many forms and formats, like images, videos, PDFs, on-site applications, and more.
TCO is often used to compare various options' costs to determine the most cost-effective. For translation projects, this includes where your business stands in the website translation lifecycle and cost considerations that are unique to each phase.
If you're interested in learning more about the true cost of ownership during translation, we go into more detail in our blogs!
Download Ebook Owning vs. Partnering
The Intersection of The Website Translation Lifecycle and TCO 
Phase 1: Manual
The Manual phase applies to companies that are likely beginning their global expansion journey and do not have translated content on their websites. During this phase, international maturity and requirements are low, and translation processes are unpredictable and ad hoc - most translations are manual and are chosen for specific use cases. Your best option here for handling the workload and adhering to a strict process is to work with a seasoned translation partner. By working with an expert, you can be sure that they will provide access to expert linguists, prioritize speed-to-market, and ensure the highest translation quality. If you decide to own translations in the genesis stages, you will be so overwhelmed by the sheer volume of needs, your quality and speed will suffer.
Phase 1: Cost Considerations
Translation costs are generally low in the Manual phase. Existing resources are leveraged, such as with employees who are fluent or native in another language. Of course, this resource is not always going to be at your fingertips. Keep in mind that handling translation in-house introduces manual and tedious copying and pasting processes, making it difficult and slow to manage translation efforts and potentially delaying a translation schedule. Not having a centralized approach to handling translations can leave businesses vulnerable to losing market share to better-organized competitors. It is strongly advised that you continue to utilize a professional translation company in this step, as it can be hard to take the baton.
Phase 2: Automated
The Automated phase occurs during a low level of international maturity and international requirements. Some translation automation tools may be leveraged to perform translation projects. These tools can include neural machine translation (NMT) solutions such as Google Translate. But a significant increase in labor and resources may be needed to complete more extensive projects, such as website translation, which may trigger the search for a faster and better solution. This phase is where a business may want to start translating to scale and increase visibility among the target audience.
Phase 2: Cost Considerations
Costs can increase slightly in the Automated phase. You will want to continue with your language service provider at this point, especially because more translation volume requires more attention and better quality overall. Solutions like Google Translate are free to use but are often inaccurate. In addition, a translated brand voice must be standardized to show consistency and professionalism. Upgrading to another NMT solution is likely to occur, which can increase costs.
The Agile phase is where the vendor support curve is the steepest. At this point, it is recommended to hire a translation and localization company like MotionPoint to ensure translation and localization projects are handled efficiently and effectively. 
Phase 3: Agile
As your global maturity grows, so do your international requirements. You may find your business needs to translate content into more languages and think about integrating localization rather than simply translating. The Agile phase refers to the agile methodology of working in sprints. Each translation and localization project can be considered a "sprint" and encompasses more than plugging text into a machine translation program. For example, elements of a company brand and website must be localized in different languages and require a process of doing so effectively over and over. In this phase, translation technology is well-defined. A business can use standard tools and have defined roles to ensure that localization is appropriately prioritized. Most importantly, metrics can be created to rate future performance.
Phase 3: Cost Considerations
Costs increase significantly during the Agile phase. Utilizing a company such as MotionPoint is not cheap, but it is the most efficient and accurate utilization of resources if international growth is a priority. Typically, the more challenging the project is, the higher the translation rate will be. While it might also be possible to find cheaper rates by working with a freelance translator or less experienced translators, this can result in poorer quality translations.
Vendors in the website translation industry often use a "price-per-word" pricing model to estimate project costs. The cost of hiring a translator or professional translation service varies depending on several factors, including the language needed to translate into an area of specialization. Common languages like English, Spanish, and Chinese often have lower rates because more linguists have been trained to translate them. Languages with fewer speakers can cost more per word for translation because fewer experts are available.
Other costs to begin considering in the Agile phase include project management costs; proofreading and quality assurance steps; and web engineering, where technology options for website translations involve using a proxy, an application programming interface (API) built for translation, or a content management system that allows for multiple languages. You could consider owning your translations if you have these resources available within your organization, but keep in mind that translation and localization are a niche specialty, and your team needs to know how to handle your specific needs.
Phase 4: Centralized
The Centralized phase occurs when translated languages are well-established, and the bulk of the translation and localization adjustments are taken care of by a reliable, centralized entity, such as MotionPoint. Since most or all of a company's translation and localization content is in place, translation memory software will automatically update preexisting words and phrases. Continuous translation will ensure website content is accurately updated on time as the company continues to grow. At this point, 5-17 people are typically allowed to publish content on a website.
Phase 4: Cost Considerations
By the centralized stage, your organization likely has the ability to leverage internal resources for translation maintenance. Monthly costs level out or begin to decline in the Centralized phase because most costs are associated with the initial setup phase and translation/localization of target pages into target languages. The Centralized phase occurs after most of the translation work is completed, and continuous translation and translation memory come into play.
Phase 5: Expert
In the Expert phase, a business is considered at peak international maturity and international requirements or dependencies. Therefore, building a translation and localization team in-house may make more financial sense, depending on a business's website's size and nature. However, there are drawbacks to building an in-house team. In-house teams can result in considerable hidden costs related to employing a full staff or additional resources to handle translations, and it can drain the staff's time as responsibilities related to translation are added to their workload. An in-house translation team also leaves projects open to time creep and indefinitely incurs the opportunity cost of latency in go-to-market.
Phase 5: Cost Considerations
Cost considerations during the expert phase relate mainly to costs if you build an in-house translation team. First, volumes of content can fluctuate. A small team of internal translators cannot handle unpredictable swells or sit idle when work is slow. It may also be tough to ensure quality with a limited number of experts working on translations. Being dependent on internal resources makes it difficult to adjust to different types of content or potentially new content you'd like to develop. Finally, working with an internal team means the pool of experts is limited, so if your company decides to expand into new markets, you will have to acquire additional translation resources. You will also lack the innovative technology tools to help you grow your localization program.
MotionPoint's Role in Optimizing Total Cost of Ownership 
Reducing Initial Costs
When making your plan for translation and localization, cost estimation for each stage is a crucial factor. Whether you own or partner has a great effect on this projection. MotionPoint can reduce initial costs when hired to support translation projects. This would likely occur in the Agile phase, which would benefit your company from specialized translation and localization. When a company in the Agile phase uses a partner, they gain access to specialized talent and leverage agile-savvy vendors, and boosts quality by focusing on outcomes rather than outputs.
Reducing Ongoing Costs 
MotionPoint also reduces ongoing costs by utilizing the latest technology and software integrations, which would be unavailable or expensive to use in-house. Our new Adaptive Translation™ combines translation memory (TM), algorithmic translation, and artificial intelligence to automate and optimize projects. This is how we reduce translation costs, give you a shorter turn-around time, and maintain consistency. There is also a lower margin for error when you partner with a professional translation company and benefit from their technology.
Conclusion
When your business is ready to move beyond boundaries, translating your vision, products, and services deserves the utmost quality. There are many costs and needs to consider as you move through the translation lifecycle, and they all directly relate to the total cost of ownership of multilingual websites for your business.
To maximize value and ROI, select a professional translation and localization service provider such as MotionPoint. MotionPoint's services include robust website translation to localize, launch, and manage multilingual websites to support your business needs around the globe.
Last updated on February 10, 2023